TRADES OFFSEASON, Oct 9th 2008
everyone knows we need to go after bulldogs like A.J. Burnett and even a secondary pitcher like Mets Ollie Perez, And to make a decision on
Joba
and STICK WITH IT!!! the entire season and bring up guys like Mark Melenchon....however.....
But really what killed the Yankees was not hitting with RISP
.....Watching especially the TampaBay Sunrays vs. Chicago Blacksox divisional series. I notices how slow the Chisox looked waiting around for a 3 run homerun while Tampa would hit double after scorching double steal a base advance a runner and it occured to me......
That's exactly what the Yankees Lack!
Doubles hitter, rippers guys who hack against good pitchers
who wont take no for an answer they lack that attitude
Then I went over the Yanks 2008 lineup, YES they we're hurting without Posada who defenetly has that attitude. But Posada or Matsui or NOT, withstanding,  they sorely lacked this kind of(Kevin Youklis) gritty type player &* hitter,  ALL THEY really HAD was big swing guys hit or miss :-/
Giambi who's option
CANNOT
be resigned!!!!  Only had 19 doubles!!!
no wonder Arod had an off year who hit behind him?
....you could make Arod fish, then are you worried about walking Giambi to first? and without Nady and Matsui and Posada out most or all of the year.... who was behind Giambi?



T

hats why the Yankees must get younger, and target certain type players:
Here's a few trades I strongly suggest
Nick Markakis
who's very reminescent of O'Neil as much as Peter Angelos loves Markakis lets face it he'll be a Yankee in 2011 anyway, why not get something for him?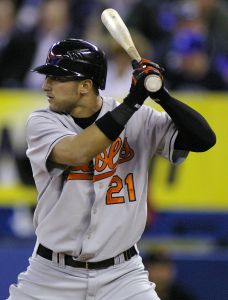 Markakis
for
Cano
,
Caberera
, and
Kennedy
if they don't want Cabrera then Austin Jackson as much as Yankee fans love AJax potential is his ceiling really going to be higher then Markakis who is only 24?
if the O's don't bite
then Nate McLouth
for the same or simular package if we can land Markakis we should still try to trade for McLouth anyway maybee an Alan Horne and another Pitching prospect we will never use or even a Melky Caberera
IT IS EMINENT WE GET A GOOD GAP HITTER W/ POWER AND SPEED IN MIDDLE OF THE LINEUP!!!! AND NOT BE A SLOW TRODDEN TEAM!


lineup should look something like this..



SS Jeter R




LF Gardner L




3b Arod R




DH Matsui L




1b Nady




RF Markakis L




CF McLouth L




C Posada S




2b Ransom R




Yes give Cody Ransom a chance he has that something attitude and demeanor that can go over very well here , and why Jeter one and Gardner two?


Well because I like Jeters abilty to start a game and take the pitcher deep better than Gardner's who reminds me of another number#2 hitter Wally Backman and furthermore I like Gardners abilty to bunt after Jeter. 
And I also like Arod in the three hole takes pressure off him to be a slugger and asks him to be more of a complete hitter
WE NEED GAMERS APPLY HERE @ 162ST AND RIVER AVE